Buying Guide: Dining Chairs
Style of dining

Get the size right

Style of dining chair

Quality assesment

Give your arms a rest

Legs

Mix and match your chairs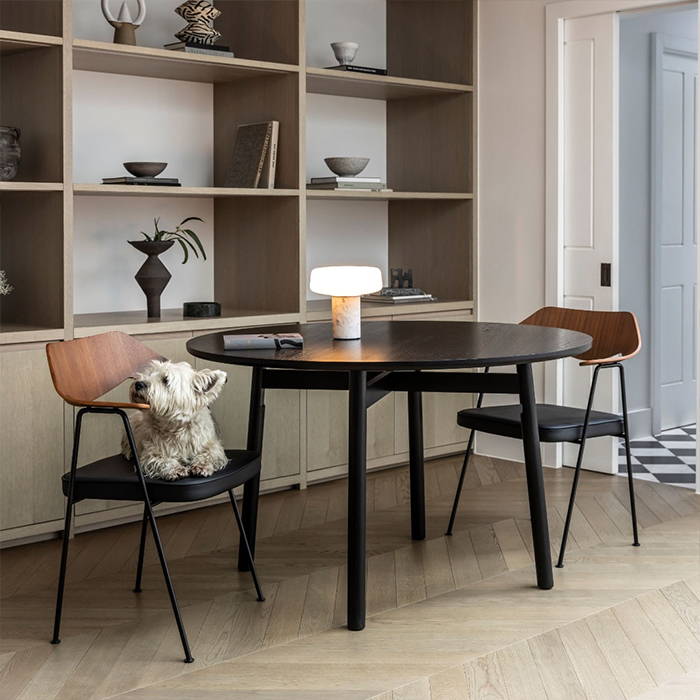 From mid-week dinners to Christmas lunches and weekend dates, a dining chair gives us a front-row seat to some of life's most precious moments with those we love, not to mention a comfortable perch while we enjoy inspiring conversations and delicious meals. In many ways, it is in the dining room – not the living room – that is the heart of the home. And now, more than ever, a dining chair must work even harder: we may use it for working at the table when we're not in the office, for example, or we may need to store it away when not in use to save on all-important space. It figures, then, that a dining chair should offer the best seat in the house. But, with so much to decide on when it comes to selecting a dining chair, where to start? Luckily, Case is on-hand to help you choose the perfect dining chair, every step of the way. Please be seated.  
Firstly, think about who lives in your house and what kind of entertainer you are, as these factors will determine how you use your dining chairs. If you're the host with the most, and Saturdays usually mean fabulous soirées with friends and family, then you'll already have invested in a large, glamorous dining table to set the scene for such occasions. In this instance, you'll need at least six chairs to accommodate even the most restrained of dinner-party groups, while choosing a striking design that provides a conversation-starter around the table. If you're family-first – two-point-four children and a Golden Retriever – then you'll likely have acquired a small, hard-working dining table to withstand the hustle and bustle of an animated household. With this set-up, you'll require at least four chairs in a durable finish, ensuring they're as comfortable as they are practical for dinners, homework and crafting. To refine your choice further, think about the space your dining chairs and table are housed in. Are they part of the kitchen? In which case, a more casual style of chair designed for wear and tear is best suited. Or are they part of a separate dining room? Here, protected somewhat from everyday life, you'll have more licence for a more luxurious model.
Size is everything when it comes to choosing the right dining chair for your home, so before you do anything else, measure both the space and your dining table (the length and width; and from the floor to the tabletop). This will give you an indication of how many chairs your set-up can accommodate. As a rule of thumb, chairs that can be stored away when not in use and compact benches are best for small spaces; taller, bigger chairs will make the most of spacious proportions. Meanwhile, square tables usually accommodate four; while oval, rectangular tables or extending tables will sit more. Without any corners, circular tables offer most flexibility, seating more than four comfortably. When you're measuring the space, remember that you'll need breathing space between the chairs and the walls, enabling guests and hosts to move freely around the table when sitting down and dishing up; and when you're measuring the table, plan for a gap of no less than 30cm between the top of the seat and underneath the tabletop for chairs (and legs) to slot comfortable beneath. Lastly, consider adequate space between adjacent chairs – nobody wants to be squeezed in like a sardine! – and ensure they are at least 60cm wide each.  
Next, think about the style of your dining chair in the context of your scheme and space. If you already have a dining table, you could choose matching chairs from the same collection if they are available, or select a style that complements its material or colour. Otherwise, mixing-and-matching a dining table with different chairs will create an eclectic and on-trend look, though it's best not to mix different types of wood (dark and blonde, for example) or clash opposing styles (a glass-topped table with shabby-chic chairs). For a smart look in a large dining room, high-backed chairs are formal and fill the space, while bench-style seating is more casual and makes the most of tight proportions.
When it comes to the material of your dining chair, think about functionality as well as aesthetics. Do you have a high-traffic home with kids and pets? Contemporary wooden, metal or plastic dining chairs can be wiped clean – perfect for stains and spillages – to keep them looking shiny and new over time. Or do you have a calm household and like to linger over dinner? Chic upholstered dining chairs are comfortable to sit in for a lengthy period of time while adding colour, warmth and depth to spaces.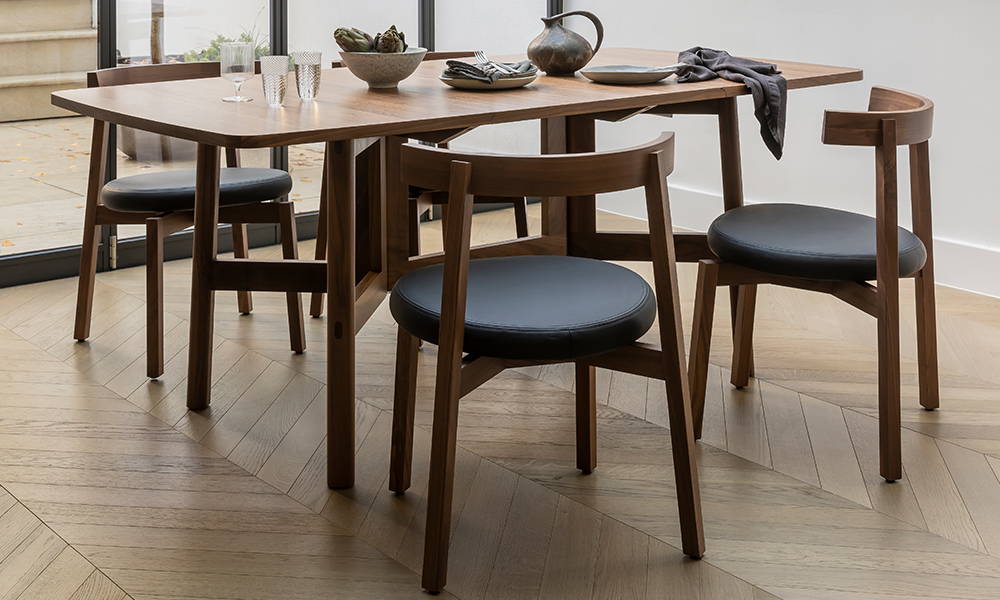 Dining chairs with armrests really dial up the comfort for guests while adding a touch of drama. Not only that, but they help elderly friends and family members get up and leave the table without assistance, meaning they blend both form and function to spectacular effect. Dining chairs with arms tend to be wider than those without, so do take this into consideration when it comes to measuring up. Crucially, check the height of an armrest to ensure the chair still tucks neatly beneath the table. 
Legs are equally as important: from traditional four-legged chairs to cantilevered styles and stackable designs, there's a stem to suit every space and taste. Again, complement the chair with the legs and the table, and choose a slim profile to showcase a statement pedestal base on your dining table.  
Remember, not all your dining chairs need to match, which is good news for those who can't commit to just one. You could choose two upholstered chairs for either end of your dining table – adding interest and texture – plus four practical wooden chairs down the sides; or you could swap out chairs down a single side for a convivial bench. If your dining chairs fit your space and table – and complement your décor – there are no rules.  
1. Helpfully, our website enables you to select your finish to help you visualise a dining chair in your space, while we offer a range of free swatches in different colours and materials on selected upholstered models to give you even more confidence in your choice.  
2. Make the most of free delivery and get your dining chairs delivered to your doorstep without any money exchanging hands. Better still, our Price Match guarantee will give you peace of mind that if you find the same product at a lower price online or in-store elsewhere, we'll match it. That's a promise.  
3. If you're still struggling to choose your dining chairs, try before you buy for the ultimate reassurance.
Subscribe to our newsletter
Recieve news on the latest releases, offers, guides and more.