A rug has the power to transform a room – as well as protecting flooring – providing a quick and easy way to brighten even the darkest of spaces. Far from just a practical addition that preserves wood, carpet or stone, while simultaneously insulating and soundproofing, a flooring covering can be a tactile work of art that acts as a conversation-starter and a focal point. But where to begin? Luckily, Case is here to help with everything you need to consider before you buy a rug, from the size to the material. Be swept off your feet.   
Unless you've already decorated, try to avoid leaving a rug until last, as entire schemes can be built around them successfully by using their shape or colour as a starting point – particularly useful for those who struggle with a vision.  
Don't worry if a rug is the finishing touch to your décor. Start by selecting the size instead, measuring the space to ensure a style fits. Then, you'll just need to choose a rug that's smaller, whether it leaves a slim border of exposed flooring around the edge – as a rule of thumb, allow no less than 30cm – zone a particular area (such as beneath a group of sofas in the living room), draw attention to specific furniture, like a dining table set, or add softness (either side of a bed). When you're working around existing furniture, measuring things like chairs and desks will help, always choosing a rug that's bigger so it can still be seen when positioned underneath (otherwise, what's the point?). Typically, rugs come in standard sizes – large, 200x300cm, small, 170x240cm, runner, 80x250cm – so getting something to suit shouldn't be too challenging.  
By this point, you'll know what space you want your rug for, but consider the function of the room before committing. For example, you may have found the perfect style to sit beneath the table in your dining room, but can the material stand up to spills or stains? Or, you may have discovered a dream runner to add colour to your hallway, but can the fibres withstand high-traffic? Together with the kitchen and bathroom, both of these spaces require a floor covering that is seriously tough, while the likes of living rooms, bedrooms and home offices can get away with less durable rugs.  
When it comes to rugs, material really matters, so weighing-up the suitability of a fabric in terms of a space is crucial before choosing. Natural fibres, as with clothing, are best: durable, long-lasting and beautiful. Superior in this category is wool, not just because it's warm and tough, but because it's so incredibly versatile, treated in different ways to create either a soft or coarse texture. Better still, it famously stands the test of time, no matter what you throw at it or how much tread it receives, while being surprisingly dirt-repellent and soundproofing. All in all: the red carpet of floor coverings. Elsewhere, cotton is another premium fibre, similarly soft and durable, while blending well with other fabrics. Meanwhile, jute and sisal are naturally beautiful and strong, commonly found in neutral shades that add subtle colour to home décor. Finally, hemp is bristly, bright and beige with hardy properties, while silk is soft, luxurious and smooth, albeit difficult to care for.    
It's equally important to consider expert craftsmanship. It's these artisan makers who work their mastery of materials to turn simple fibres into masterpieces. From India to China, every culture has developed its own style of rug-making over centuries, developing heritage techniques that make a floor covering a future heirloom. Many of our styles are hand-tufted, meticulously crafted by placing the design on a cotton fabric that's stretched over a frame, then pushing wool threads through the cotton that's fastened to the base with a tufting gun. The rug is then sheared so all loops on the top are cut to create its signature pile. Hand-tufting allows for the creation of curved patterns that vary in strand length, making them as beautiful as they are durable. Our Spindle Rug by designer Eleanor Pritchard, featuring a large-scale pattern of repeating thick and thin blocks centre-scored with a fine accent line, is available in such a hand-tufted finish. It's comfortable underfoot, hard-wearing over time and smooth enough to showcase the patterns and colours of this incredible London-based artist. Flat-woven rugs are also worth finding. They're manually crafted on a loom using a vertical process that involves tightly-knotting each thread. A small braid is made with each weave to create the most characteristic feature of this much-loved technique. As you'd expect from its name, flat-woven rugs are smooth, meaning you don't need to consider pile-length when choosing. With no backing, they're usually reversible, making them a flexible addition to any space, while allowing for patterns to pop, stand-out texture and attention-to-detail.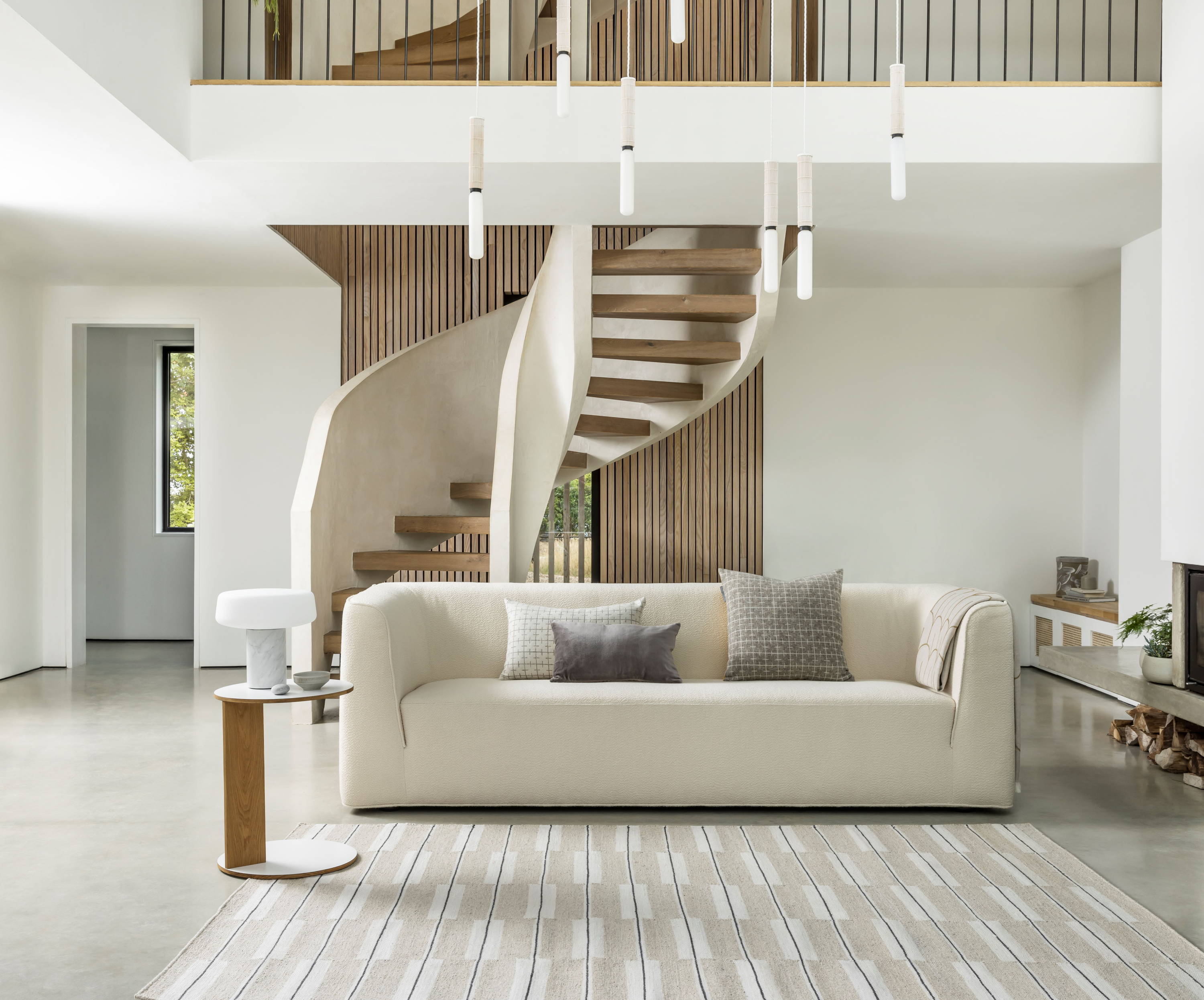 Subscribe to our newsletter
Recieve news on the latest releases, offers, guides and more.