From TV after a long day to a lie-in at the weekend, a bed isn't just somewhere to sleep at night, but a platform for some of the life's most pleasurable moments – not to mention all-important pillow talk… Breakfast under the covers on birthdays, jumping-up and down for joy with the kids, and curling up with the cat (or dog) – it's where the moments that matter happen. Sleep itself has never been more important than it is right now, either, credited with better health and wellbeing – as well as optimising performance and maximising success. From Alex Shannon, 'the world's first sleep influencer', to Sleep Awareness Month in March, dedicated to raising awareness of sleep health, getting quality shut-eye is firmly in the spotlight (and deservedly so). When it comes to choosing a bed for slumber, there are other considerations aside from the frame, from the base to the size, both of which contribute to a sound night's sleep. As ever, Case is here to help, meaning all you need to do is hit snooze…  
A bed is an investment, so it should last you a while (usually around 10 years), meaning it's not always easy to part with your existing one. Ask yourself: does it make noises when you move during the night? Does it sag in the middle? And does it suit your space and taste? You may find it's time to swap for a newer model.  
From wood to fabric and metal, there's a style of frame for every kind of sleeper, so it's simply a matter of picking the perfect one for you. Here's what you need to know.   
Arguably, the most popular kind of frame is a wooden one, whether traditional or contemporary. You can usually choose from natural wood or a coloured stain – such as satin white, for example – with the option of adding more character in the form of unique grain and knots (also making your particular frame one-of-a-kind). But the best bit? Usually, wooden frames are raised from the floor, meaning you can easily keep the space beneath dust-free, while storing belongings neatly out-of-view. The Valentine Bed, designed by British talent Matthew Hilton, is the perfect example of a traditional wooden frame given a twist for modern interiors. Crafted from solid wood with a slatted headboard, it features gently tapered legs that point outwards, while offering a sturdy and timeless design that's built to last. We like it in natural oak, although a selection of stains in walnut and black give it a modern aesthetic, if that's more your thing.  
Although not as easy to keep clean with a simple can of polish like their wooden counterparts, fabric beds have an air of luxury about them, sumptuously upholstered in material that give them the aesthetic of a boutique hotel. Here, usually cotton, velvet, twill or leather is wrapped around wooden headboards and bases, some even boasting storage beneath in the form of drawers. This, of course, makes it trickier to clean beneath the bed, but it does mean belonging are completely concealed from view and kept safe. These frames are otherwise known as divans.  
Sturdy and stylish, metal beds rose to fame during the Victorian era and remain a traditional choice for classic interiors, albeit reinvented for current times. Much like wooden frames, they're raised above the floor, ensuring you can store things beneath and keep the floor clean. Better still, because metal is malleable, you can select from clean and streamlined styles, or ornate and opulent, according to the aesthetic you are looking to achieve. Like wood, metal frames can be cleaned quickly and easily with a wet cloth.
Not just suited to small-space living, sofa-beds have enjoyed a resurgence in recent years as they get ever-more stylish, now no longer the 'poor cousin' of frames. They've become a flexible choice for many of us as we continue to straddle hybrid-working, with spaces continuing to act as both office and bedroom, while providing a place to perch when folded-away. The ultimate choice for multi-functional rooms – and now just as chic as they are comfortable.  
We'll keep this simple – there are three main bases to choose from.  
In short, divan bases come in platform and sprung options. Platform bases have a solid top that means firm support for your mattress and back; while sprung bases offer built-in springs with cushioning for your mattress and back. Top tip: choose the firmness of your mattress before selecting your style of base to coordinate a harmonious combination.  
Solid slats are spaced evenly across the base of the bed and are fixed in place with no give for sturdy support. This, in turn, gives you mattress a firmer feel while the spacing between the slats allows for airflow for a cool night's sleep. Perfect for fidgety partners.   
Sprung slats are a more premium iteration of solid slats with an upwardly-curved design that provides a little spring for reactive and contoured support as you move during the night. This alleviates pressure on your mattresses so that is lasts even longer. Great for couples with different support requirements.  
Once you've settled on a style, size is the next biggest consideration, choosing something that fits your space and accommodates your family. 
Compact in size, single beds (190cm x 90cm) are perfect for occasional guests or children when they're young, while being great for tight spaces that need to double-up as an office and fit both bed and desk.  
Double beds offer the most variation, from small (190cm x 120cm) and standard (190cm x 135cm) to king-size (200cm x 150cm) and super-king (200cm x 180cm). We always recommend plumping for the biggest bed your room can accommodate for the best rest and most luxurious aesthetic.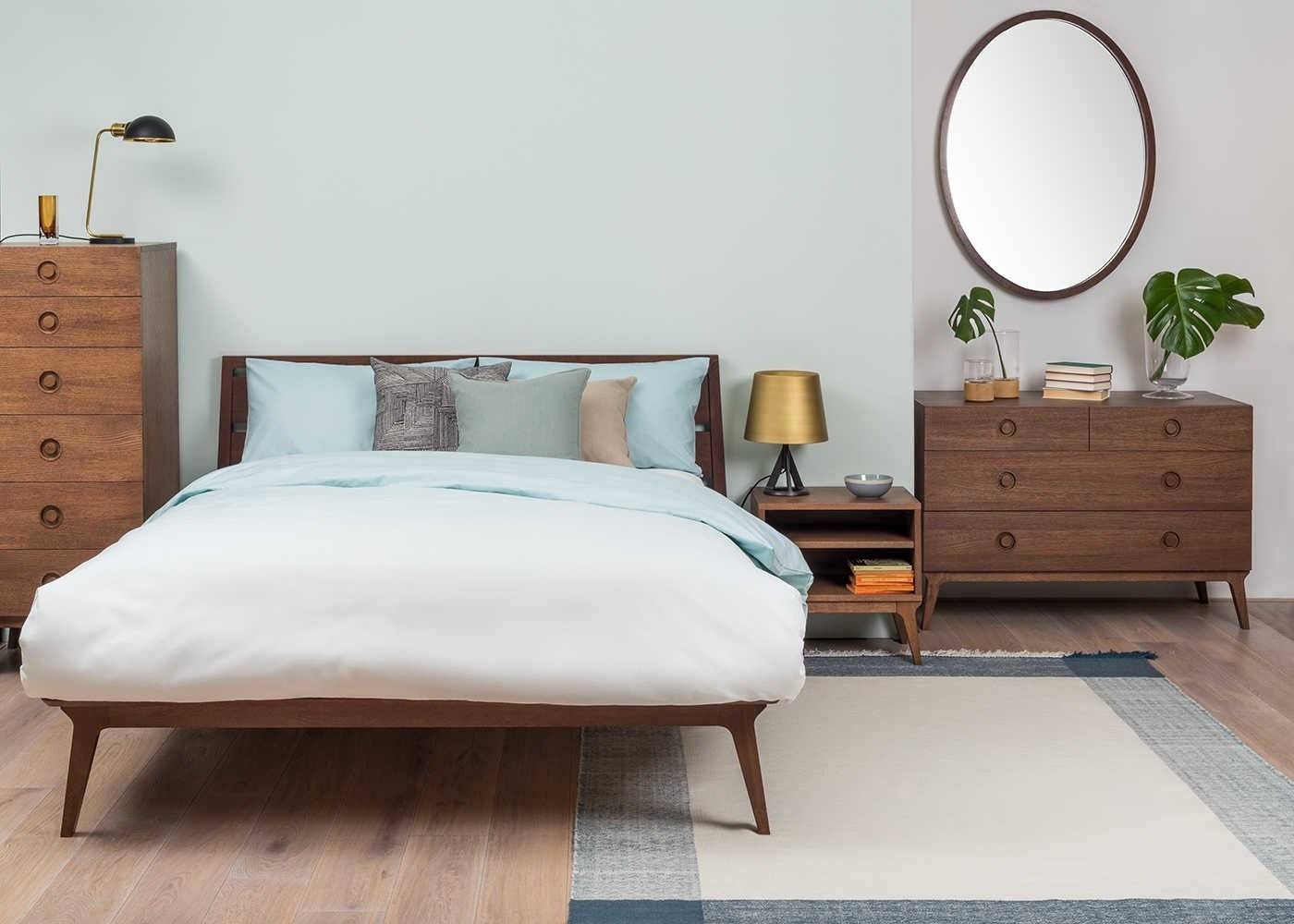 A bed is just the beginning of a beautiful space, so browse and buy our selection of furniture, lighting and accessories to finish the scheme with a flourish.  
Make the most of free delivery and get your bed delivered to your doorstep without any money exchanging hands. Better still, our Price Match guarantee will give you peace of mind that if you find the same product at a lower price online or in-store elsewhere, we'll match it. That's a promise. If you're still struggling to decide on a bed, try before you buy for the ultimate reassurance, from the Case Furniture Showroom.
Subscribe to our newsletter
Recieve news on the latest releases, offers, guides and more.