Sofa function

Select your style

Sizing it up

Get the measurements right

Material matters

Top tips

Choose your colour

Looking after your sofa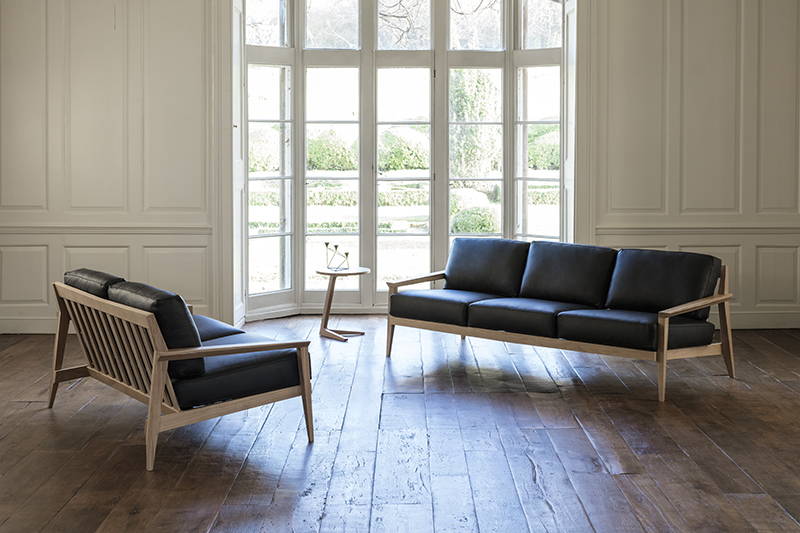 Think about it: we live our whole lives around a sofa. As the centrepiece of a living room, it's where we cosy up as a couple over a glass of wine; it's where we chill-out by ourselves over a good book; and it's where we catch-up with friends over gossip. Whether day or night, whatever the season, a sofa is designed for the moments that shape our lives. It's hardly surprising, then, that the average sofa is part of a family for more than a decade. We come to cherish them. Familiarise ourselves with every comforting nook and cosy fold in their well-crafted frames and beautifully-made fabrics. A quality sofa is an investment piece, after all. So, knowing that it's going to stick around for a while – a place for losing pennies and letting sleeping dogs lie – how do you make the right decision? Fear not: Case is on-hand to show you how to choose a sofa like an expert, every step of the way. Go on: take a seat.
Dashing good looks aside – at least for the moment – first and foremost think about the function of your sofa over form. For most, there's no straight answer, as a sofa needs to be as multi-functional as we are multi-faceted. But start with your general lifestyle. Are you usually hosts-with-the-most who invite friends and family around for long evenings chatting on the sofa and enjoying cocktails 'til late? Or are you predominantly cosy homebodies who enjoy curling up with the next big box-set binge and a warm cup of cocoa? The way you live your life – at least, most of the time – will help you determine the style of your sofa. Formal versus casual. Slouchy over structured. These decisions will narrow down the types of designs that are befitting of you and your home. Generally speaking, if you're entertainers, plump for an elegant shape with back support and slim arms; if you're hibernators, go for a relaxed frame with generous cushioning and squishy arms.  
Next, consider your taste and your space. Are you and your home contemporary and minimalist, or traditional and maximalist? Selecting a sofa that suits your interiors is imperative so it's both sympathetic to its surroundings and reflective of your style. For modern rooms, a contemporary sofa can become a showstopping piece of art that pulls your scheme together, while classic rooms can be enriched by a heritage sofa that looks like an heirloom passed down from generation to generation. Alternatively, contrast can add welcome interest and character, so don't be afraid to juxtapose styles, either. In this instance, simply be guided by your colour palette rather than your scheme to ensure cohesion, picking out a dominant or accent shade to complement. Remember: there really are no fixed rules. A sofa is a deeply personal choice that should make you happy when you see it and comfortable when you sit on it. A moodboard can be a valuable tool to help you visualise – whether in a scrapbook or on Pinterest. Explore, have fun and enjoy the process.
Subscribe to our newsletter
Recieve news on the latest releases, offers, guides and more.
After function and form, on a practical level, size is everything. Do you need a compact design to make the most of small-space living? Or can you get away with a generous style to fill a room? Corner shapes, curved silhouettes and two-seaters are perfect for tight spaces with small but perfectly-formed proportions; three-seaters are spot-on for spacious abodes with plenty of room to sit and lounge; while modular sofas offer complete flexibility to create bespoke configurations – and a chance to change it up, as and when you choose. While sizing your sofa up, think about the people it needs to accommodate as well as the space it will be installed in, whether you're flying solo, happily coupled or simply a family of four. Guest-ready? Get a sofa-bed for folding-out – and away – in a flash. Always great for living rooms that need to be multi-purpose.
After you've ascertained what size you require, measure the space you want your sofa to sit in – not once, but twice – including the length and depth. To get a feel for how a preferred model will fit, mark the size you're considering with masking tape or newspaper sheets. If it slots into place seamlessly – good news indeed – live with it marked-up for a few days to give you a sense of its presence in a room. It's not just about the space itself, either – but, crucially, the access route. After all, there's no point in ordering the sofa of your dreams only to discover it can't be delivered because it doesn't fit through the door. Narrow hallways, low ceilings, tight corners and awkward staircases can all result in disappointment on the day.
As a rule of thumb, the diagonal measurement from the back corner of a sofa to the top of the arm represents the minimum width that it will fit through, so check these dimensions against your doorways before ordering.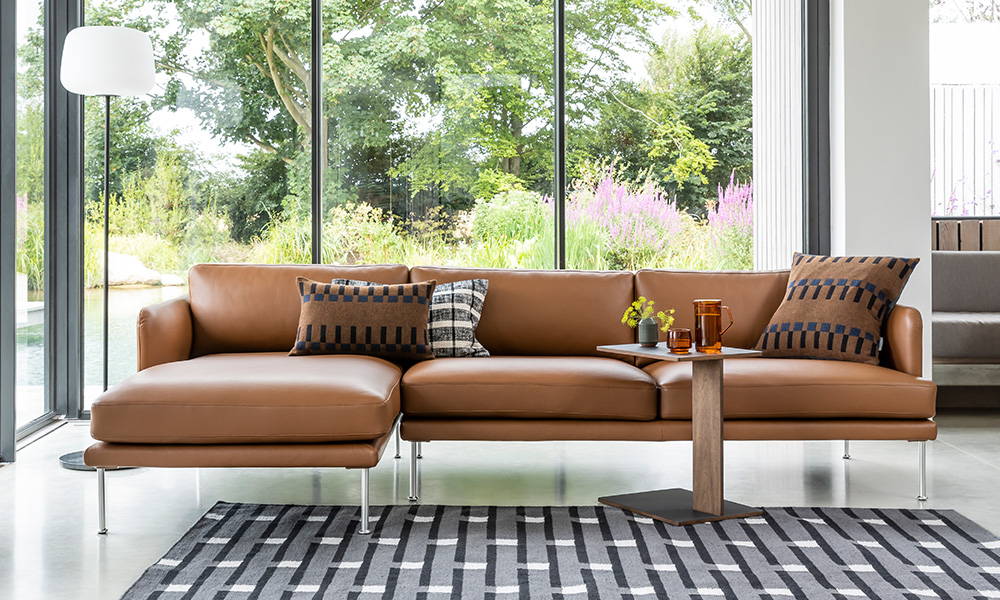 With the biggest practicalities sorted, now comes the fun bit: the material. What the frame of your sofa is upholstered can change the whole look and feel of its style while accommodating the different needs of individual households (something hardwearing for children and pets, for example).
First-up, sing the praises of fabric: soft and sumptuous, it offers supreme tactility, superior cosiness and sublime colours, while nodding to the traditional coverings of times gone by. There are usually three choices: wool – natural and durable – a wool and synthetic blend, which is seriously tough, or linen, able to withstand pretty much anything thrown at it.
Next: go hell for leather, synonymous with luxury and deservedly so. Its character only accentuates and deepens over time – like the well-worn face of a weary traveller – while retaining its shape and strength. Better still, its surface means spills and scuffs can usually be wiped away with the brush of a cloth, keeping leather sofas looking like new for longer.
Yes, the colour of your sofa depends on your taste, but it's also a practical decision as well as a personal one. For example, neutrals are both timeless and trendy, but they're also the perfect choice for those who like to change their décor regularly without having to worry if the sofa will suit new paint, wallpaper or furniture. Better still, brightly-coloured or boldly-patterned scatter cushions can be added to a neutral sofa to quickly and easily refresh it. Alternatively, dark colours are a good decision for high-traffic households, as they cleverly disguise inevitable wear and tear. What red wine stain? Finally, think about the natural light a space receives – at different times of the day and throughout the seasons – to inform your choice of colour. A dark room can be lightened with a bright sofa while a room filled with sunshine can be anchored with a dark sofa.
As with most things, a little TLC goes a long way, so show your sofa just how much it means to you. Life isn't Instagram-perfect, so spills and scuffs will happen, no matter how careful you (or your friends) are. But such accidents don't have to spell disaster. While many of our sofas come in materials that are stain-resistant and water-absorbent, others come with removable covers, meaning the material can be professionally-cleaned so it's as good as new. Without these, when a spillage does occur, simply act speedily by blotting the stain out with a clean white cloth for best results. Never rub, as this may spread the stain further and deeper into the fabric, and always follow the cleaning instructions on the label of the sofa. Avoid pets on fabric sofas – no matter how enjoyable a sleeping cat or dog cosied up next to you can be – as their claws can pull at threads. If one does come loose, simply snip at the base and push it back into the weave, but never pull as this can worsen the damage. For leather sofas, a simple wipe should do the job for most spills, while plumping the cushions to stop them from creasing will increase their lifespan.  
1. We offers a range of free swatches in different colours and materials to give you confidence in your choice of upholstery, from cream leather to green bouclé.
2. Make the most of free delivery and get your sofa delivered to your doorstep without any money exchanging hands. Better still, our Price Match guarantee will give you peace of mind that if you find the same product at a lower price online or in-store elsewhere, we'll match it. That's a promise.
3. If you're still struggling to select your sofa, try before you buy for the ultimate reassurance, at the Case showroom in Clapham.