Outdoor Furniture: Buying Guide
Choosing furniture for your outdoor space – whether you've got a garden, patio or terrace – is just as important as selecting pieces for inside your home. Because, with the right tables, chairs, sofas, benches and loungers, you can extend your interior way beyond the back door and make everything feel that much bigger. In fact, designers and landscapers call the garden 'the fifth room', such is its potential to maximise your space. Luckily, Case is here to help, from planning your plot to sizing-up furniture and choosing your style. All you need to do is throw open the doors and play host with the host – just add sun.   
Firstly, think about how you intend to use your outdoor space, whether it's for barbecues with neighbours, simply kicking-back solo, or a combination of both. Take the time to do the groundwork ahead of anything else. Planning how you want to use your great outdoors will inform the elements it needs to include, and therefore the furniture it needs to be filled with, from a table that sets the scene for al fresco lunches to loungers that sooth you to sleep beneath the sun. Perhaps you're dreaming of an outdoor bar – a rising trend across the UK – in which case a stool will help guests prop up a counter; or maybe you're after a bench for sitting and admiring your handiwork in the garden after the day is done? Alternatively, have you ever heard of a picnic house before? It comprises an all-in-one table and roof structure for bringing people together while sheltering everyone from the sun (or rain). Peruse and choose from a selection of outdoor furniture to inspire bright ideas in your garden and get planning using a sketchpad or a tool like Pinterest.  
Next, think about where best to enjoy the activities you've planned within the space you've got available, whether it's a morning coffee in the shade near the kitchen – a lightweight café table with small proportions is perfect – or an evening aperitif in the sun at the far-end (an armchair provides a comfortable perch). Consider both practicality and aesthetics, as well as the pattern of the sun at different times of the day, when plotting out your places. Natural areas will emerge without too much overthinking. Not only does zoning help you use every corner, but ensures the furniture you choose isn't crowded together, enlarging the space and improving its flow.  
With the garden plotted and elements nailed, you'll need to measure your outdoor space like you would your rooms inside, before you browse or buy any furniture. After all, the space you have available will be your biggest restriction when it comes to what you choose – even if your imagination is unlimited – so it's best to be practical from the offset. To avoid your outdoor space feeling cluttered, try not to fill more than two-thirds with furniture, helping to create a comfortable space with freedom of movement between pieces. You'll need space for finishing touches like plants and lighting, too, so incorporate spaces for those into your scheme. Finally, when measuring-up, remember to take into account windows and doors, ensuring they'll have room to open fully with the furniture you're planning without being obstructed.  
Often overlooked, create a scheme for your garden like you would your interiors, whether it contrasts (classic inside VS contemporary outside) or complements (classic with classic or contemporary with contemporary). Both can be extremely effective – as long as it's considered – as can a carefully-curated selection of eclectic furniture. Mixing-and-matching, after all, has never been more fashionable than it is right now.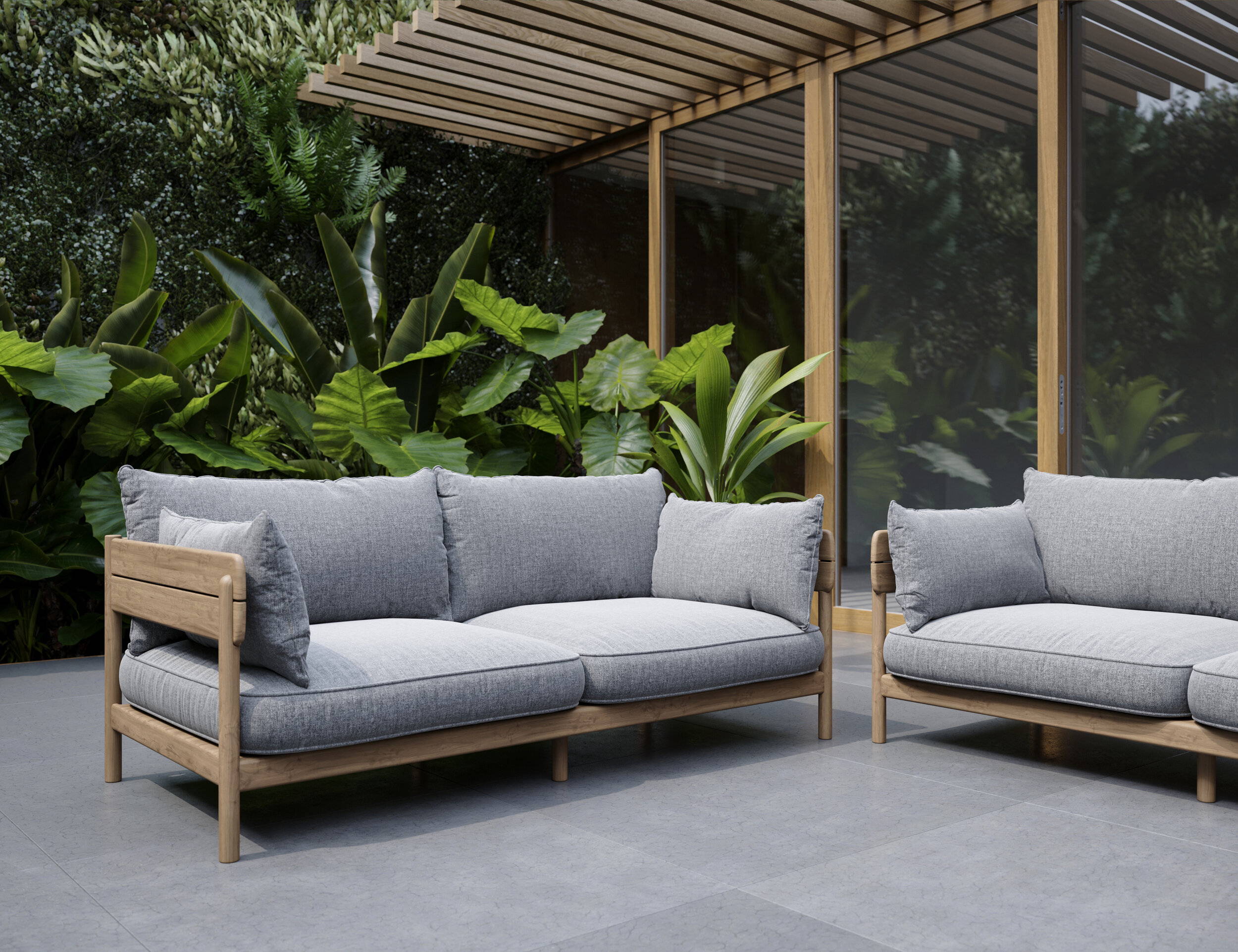 Stuck on a style? Fear not, as the material that outdoor furniture is made from can inform your style, whether it's grade A teak for a natural and rustic look – as seen in our Tanso range of tables, chairs and sofas by industrial designer David Irwin – or powder-coated aluminium for a sleek and contemporary aesthetic, as exhibited in our Eos collection of furniture from British designer Matthew Hilton. Garden-worthy good looks aside, the materials we make all our outdoor furniture with are built to withstand even unpredictable British summers, come rain or shine. Likewise, the colour of furniture can help inspire a style, and from stone-like greys and Ibiza whites to charcoal blacks and warm rusts. The shades in our range have all been handpicked to blend seamlessly into your garden to allow the natural greenery to shine through – after all, your outdoor space should always be the star of the show.  
Discover more on the colours and materials used in our range of outdoor furniture here.
Subscribe to our newsletter
Recieve news on the latest releases, offers, guides and more.